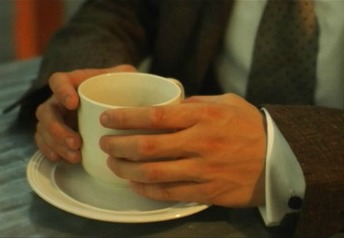 The early 80's. I had just turned 30 and was heading up the office for Samuel Rains & Son in Chorlton cum Hardy. Things were going well, or at least head office seemed to think so, and it wasn't long before I was asked to go and run the office in Didsbury.
Didsbury was on the up and up. The place to be for an ambitious young man in real estate. From an office of two (including me) I was now in charge of six staff. I had arrived. I was professional. I was confident. I knew the ropes or at least liked to think I did. And I was in for a surprise. A timely prick to a slightly inflated ego.
In this line of work you never know who you are going to meet or the environment you are likely to meet them in. Postcodes and front doors provide some clues but can, as I was about to discover, be misleading.
Saturday morning. I'd been out too late the night before, not exactly hungover but not up for a marathon either. I had an appointment to see a couple who lived just off Burton Road in West Didsbury. She worked for Granada TV, he was an architect. The house was simply furnished. Stripped pine floors and doors, ceramic handles, stone sink, antique cast iron fireplaces and a smattering of spider plants.
Having made a tour of the house and gardens we stood in the kitchen. A welcome cup of steaming tea in hand. We talked about work, Didsbury, their plans to start a family - the reason they were looking to move.
While the atmosphere was relaxed and the conversation flowing, it was hard to ignore the flashing glances, the barely contained smiles. Something was up. At the time I put it down to the valuation. The market was buoyant. House prices were rising. Competition was stiff but now was a good time to sell.
I took another gulp of tea. They looked distracted and by now so was I. A speck of something white had caught my eye for the second time. Perhaps the milk was off? Conscious that I needed to close the deal I decided to ignore it, soldier on, be professional. I took another gulp, smiled. The fleck had grown in size. No doubt about it.
Things might have gone differently if I hadn't taken that last sip. Too late. Peering back at me with unblinking eye was an erect white phallus. Being professional no longer an option, I spat the warm contents of the tea back into the mug narrowly missing my shirt and suit. Given my over indulgence from the previous evening it could have been a lot worse.
It turned out the couple had a penchant for collecting mugs with various appendages and animals molded into the bottom. By sheer luck and good fortune I had ended up with the erect phallus - in the cup. I say sheer good fortune because it taught me a very good lesson. Not to take myself too seriously.
read all about it

Land Matters
the latest news on land for sale, land that's sold and land that's selling. read more
subscribe

Future Landscapes
a no nonsense look at what's happening in the land of planning, housing and development. read more
subscribe