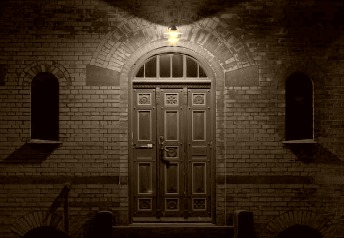 Working at Samuel Rains & Sons. That was my first job. Fresh faced and knocking on doors. Most days were run-of-the-mill. A brief tour of the house the formalities over I'd head back to the office. And then there were those other days, those other doors.
There are some doors that say, 'hey watch out it's going to be odd in there.' The hermit from Glossop, a well-known character - which come to think of it is strange for a hermit - was one. More peel than paint, and that front garden! Of course I couldn't have guessed what was inside. But the clues were there. Take care.
And then there are the ordinary doors. Nothing untoward, no clues. The ones with the jack-in-the-box surprise waiting to leap out and take a fresh-faced graduate by surprise.
Some of those doors changed my life. One, owned by a property developer who drove fast cars, had his own racing team, and by our second meeting, had me racing in the team.
And then there was the Italian woman in the flimsy dressing gown. Too fast for me. And the house with the garage full of formula one racing cars. My dream come true.
Others turned out to be bordering on the dangerous. Flats in Moss Side and one on Elm Street, strange but true. The bath as a toilet. Some things you never forget.
But perhaps the door that's made the biggest impression was one owned by a widow, the house now too big was up for sale, the family gone she lived alone. Once a week her children, now middle aged, came back for dinner. All three.
Sitting down as a family she said was the thing that had made all the difference. Family life without the family all sitting down together for dinner wouldn't be the same.
Back then I had two young daughters. My wife, a lawyer, we were the career couple. Life under control, priorities worked out. Or so we thought. But as I listened the penny dropped. Perhaps we weren't so on top of things after all. Dinner with everyone at the table was now on the menu. And I have to say she was right, it has made a difference.
Doors. You never knew quite what you'd find.
read all about it

Land Matters
the latest news on land for sale, land that's sold and land that's selling. read more
subscribe

Future Landscapes
a no nonsense look at what's happening in the land of planning, housing and development. read more
subscribe