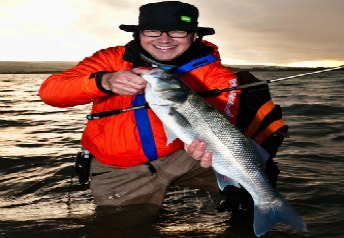 The last I heard Nick Roberts had gone on to become a senior land manager in charge of land acquisitions at Barratt Homes. Over the years I have had the good fortune to work with Nick on several occasions. Nick got things done, no fuss-no muss, a pleasure to work with and a consummate professional.
Unfortunately the economic tsunami which has devastated much of the building industry in the last four years pays scant attention to talent and likeability. Back in 2010 the company Nick had been working for as a land director, McInerney Homes, went into receivership. Rather than floundering around looking for work in an ever shrinking job pool Nick decided to do the thing he loved most. Go fishing.
Together with his wife, Katie who worked at GSK the couple set up an on-line fishing tackle business. Nick's move from land to sea has, by all accounts, been a resounding success.
The retail part of the business, Basslures.co.uk is set to hit the high street later this year with plans to open retail stores throughout the North West. The wholesale part of the business Topwaterlures, which currently has over 200 accounts is expanding into the European market.
Not bad for a land lubber.
If you're interested in fishing and would like to find out more you can always drop Nick a line on: 0161 9421011
read all about it

Land Matters
the latest news on land for sale, land that's sold and land that's selling. read more
subscribe

Future Landscapes
a no nonsense look at what's happening in the land of planning, housing and development. read more
subscribe